CRCI²NA - Nantes - Angers Cancer and Immunology Research Center
CRCI²NA - Nantes - Angers Cancer and Immunology Research Center
Welcome to our center
CRCI²NA – Inserm U1307, CNRS UMR6075
The largest Cancer Center in the Grand Ouest
The largest Cancer Center in the Grand Ouest
We are spread over five sites
Looking at, understanding and treating tumour ecosystems
Looking at, understanding and treating tumour ecosystems
Our 12 teams explore the interactions and dynamic changes of tumors during progression and response to treatments
Organemon from mammal tissue
Organemon from mammal tissue
2nd prize "concours photo 2022" Floriane Briand
Shape of an organoid
1st prize "concours photo 2022" Aurore Dupuy
Lightsheet microscopy picture of healthy lung tissue vasculature
Lightsheet microscopy picture of healthy lung tissue vasculature
concours photo 2022 Lucas Treps
Histological section of long bone
Histological section of long bone
Team child
How phenotypic imaging could improve diagnosis
How phenotypic imaging could improve diagnosis
concours photo 2022 Latifa Rbah Vidal
Scientists tend to reach the moon...
Scientists tend to reach the moon...
cells under microscope
Please note that this is the only official site of the Research Unit INSERM UMR1307/ CNRS UMR 6075/Nantes Université/ Univ. Angers.
We are neither linked to, nor responsible for, the content of any other site with a similar name
Our key figure
330

more than 330 members in the lab

55

more than 55 projects

800

more than 800 scientific papers edited
About the CRCI²NA
The CRCI²NA (Centre de Recherche en Cancérologie et Immunologie Intégrée Nantes Angers in french) was created in January 2022 by the INSERM, the CNRS, the University of Nantes, and the University of Angers as a result of a structuration of oncology and immuno-cancerology research that was initiated in 1979.

This Center is composed of 12 research teams dedicated to the analysis of tumors as ecosystems composed of distinct cell types, linked by cooperative or competitive relationships. The overall project of the CRCI²NA is to explore the interactions and dynamic changes of tumor ecosystems during tumor progression as well as the mechanisms of dissemination in response to treatments.
-
More specifically, the CRCI²NA teams focus on the death/survival decisions of malignant cells as well as their molecular evolution, the reactivity of immune cells and the cooperativity of stromal cells. They combine a broad spectrum of expertise, including cancer genomics and computational biology, cell and molecular biology, cell models (3D and murine), immuno-oncology and imaging.
This multi-scale approach allows the identification of diagnostic and predictive tools, the deciphering of treatment resistance mechanisms and the design of innovative therapies and theranostic approaches, based on the molecular, phenotypic and radiomic specificities of each cancer. Spread over five sites, the CRCI²NA is the largest cancer research center in the Grand Ouest region.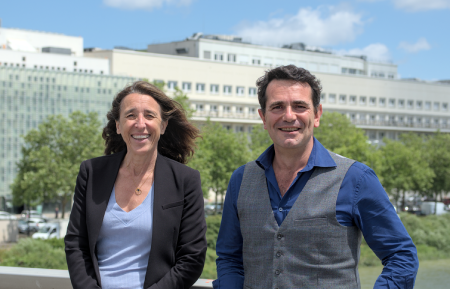 Catherine Philippe Juin
Pellat-Deceunynck
Director
Deputy Director
Mis à jour le 20 July 2023 - Eric LETOUZE.